Click on the thumbnails for the full sized picture.
Here's a few pictures from our run up the back road to Crown King after a major rainstorm (8" in 48 hours).
There were major washouts and land slides everywhere on the trail.
On the majority of the steeper hills there were huge ruts.
We happened across a Cherokee and Silverado that did not follow proper winching technique. The Silverado got stuck so the Cherokee got in front of him and hooked up his winch cable. He put the Cherokee in park and put some rocks in front of the tires. He then began winching the Silverado while he was standing between the two rigs. He heard a POP come from his rig and it started rolling down the hill (probably the parking pawl). It then proceeded to run over the Silverado and tumble down an embankment. Somehow nobody was injured (he jumped out of the way luckily). We stopped on the way back down the hill to pick up the pieces of his jeep that were strewn across the hill.
The harder "optional" lines got to be very challenging. All of the rocks that have been stacked over the past few years are gone, and much of the dirt that was around the rocks has washed away.
You can see the damage at the water crossings.
We stopped at the top for a beer and some fudge and headed back down to our campsite.
I tried to capture the light snow flurry we ran into on the way down. If you look at the first picture here closely you can see a few white spots.
It rained on us pretty much all night, but we woke up to a beautiful morning
My new "home away from home"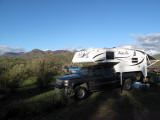 An ultralight buzzed by us while we were packing up.