Click on the thumbnails for the full sized picture.
Here are my pictures from AZ Run IX with Nissan 4 Wheelers. There are a lot of them so please be patient while the page loads.
Day 1 we attempted to run Terminator out at Table Mesa. We ended up only running about half of the trail and some other obstacles that weren't on the trail. Amber drove the truck pulling the fully loaded trailer. I was planning on dumping the trailer if it wasn't working out, but it performed far beyond my expectations on the rocks so we drug it through all day.
A wrong turn here made for a 500 point turn (insert theme song to Austin Powers here).
Riding on the trailer was quite entertaining.
Boot to the head!
Day 2 was the back road to Crown King. It turned out to be a very long, slow, dusty trail with a few good hill climbs (added difficulty with the trailer).
Day 3 was Senator Highway to Prescott to re-supply. A boring road during the summer, but during the winter it's not maintained so it's covered with snow and mud and turned out to be quite a fun road. Only one picture because we were going as fast as possible. This was the first day of the run that I wasn't dragging the trailer so it felt good to go fast!
Day 4 was Desoto mine. Another day dragging the trailer. For some reason we never took the camera out. Ian (bad ass Patrol on Portal-Tek axles) got a good video of me climbing the worst hill on the trail. I didn't realize I was lifting the front end so much.
Day 5 we ran Kenmore Canyon. 1/4 mile of slick rocks, wet soft sand and zero traction. Justin drove this trail, we winched twice and then on the last obstacle he managed to break the drivers side outer stub shaft. When it broke it exploded inside the spindle and took out the hub lock and idler bearing in the spindle. We pulled the hub lock and pulled out all of the pieces (I thought we got them all anyways) and drove the rest of the trail in 2 wheel drive after getting winched backwards off the obstacle.
After we got back to camp we drug Kieth up and down the creek on a mattress pad. Good times!
Shortly after I started my drive home (less than 1 mile from the last camp site) a chunk of metal ended up in the outer wheel bearing and it self destructed. Now I need a new outer axle shaft, new hub lock, new spindle, bearings and hub...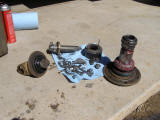 I ended up getting a ride home to pick up the Silverado and trailer and hauled the K5 back that way. This was by far the best AZ run that I have been a part of. A great week spent with great people.