Click on the thumbnails for the full sized picture.
Here are my pictures from AZ Run VIII with Nissan 4 Wheelers. There are a lot of them so please be patient while the page loads.
Day 0 and 1, Sycamore Creek. A group of us came out to camp at the night 1 camp spot a day early. We couldn't wait for the run to start. We ran up the wash and played around on some rocks. Numerous people (including me) got stuck in the quicksand.
Day 2, Saguaro Lake Coves. We crossed the highway and took a loop around the coves. We got a few action shots with the trailer but didn't manage to get any pictures of the insane full throttle hill climbs with trailer in tow. There were a couple hills I barely made it up. We camped at the base of 4 peaks.
Day 3, 4 Peaks, Edwards Park Loop. We ran up to the top of 4 Peaks and ran the loop. We camped out in a nice field on top of 4 Peaks.
Day 4, Tonto Foothills trail. Thursday we took El Oso road down off the top of 4 Peaks into Punkin Center, refueled for the first time and then ran the short trail and headed up to Payson. Unfortunately, no pictures from this day. We managed to go from Fort McDowell to Pyeatte Draw North of Payson with less than 20 miles of asphalt.
Day 5, Pyeatte Draw. Amber and Justin busted their asses (along with me) to get the truck and trailer ready for this run. I let them drive the entire day 5 trail (the best trail of the run). Justin ended up taking pictures the whole day and Amber drove the whole trail while I spotted.
Day 6, Home. Most of the group stayed an additional night at Pyeatte. I was so beat from walking the entire trail and cutting up wood that I couldn't handle another night of camping in below freezing weather (it got down to 22F Friday night after we left). We hung out till 10 and drove home.
The trailer performed very well the whole trip, the only issues were caused by the stiff suspension. I'll be replacing the leaves with a multi-link air bag system.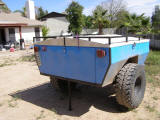 The truck ran great the whole trip except on the asphalt. The track bar stressed the frame to the point of failure. To make it home we had to strap the rear of the front leaf springs to the opposite frame rails. I also had an issue with one of my rear axles coming loose, not sure what causes that but it sure makes a mess. I managed to poke a hole in the top on a night run too. The top wasn't holding up too well to the massive amounts of body flex the truck has anyways.