Click on the thumbnails for the full sized picture.
Here are my pictures from AZ Run XI in Florence Junction with Nissan 4 Wheelers. There are a lot of them so please be patient while the page loads.
Day 0 we ran Elvis, it was a small group so we had plenty of time to play around on all the obstacles.
Day 1 I ran Box Canyon, twice. I also ended up catching a rock with my right front wheel and screwing up my steering, twice. The rest of the day was spent repairing the exploded steering box and damaged king pin bushings.
Day 2 we ran the Martinez Cabin loop. It was a great day, until I managed to blow up my clutch while decending a hill...
Day 3 was spent replacing my clutch, twice. The replacement clutch we got was different from the one we took out and the pressure plate hit the bellhousing. This meant we had to remove everything and put the old pressure plate in with the new clutch disk... It made for a long day.
Day 4 we ran Coke Ovens
Matt delivered a passenger side airbag from a Jeep to me and said "Do something cool with this". Here is the result.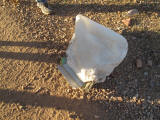 St. Patty's day fun.
Day 5 we ran Jack Handle and Lower-middle woodpecker.