Click on the thumbnails for the full sized picture.
Here are my pictures from Blazer Bash 2010 with CK5. I showed up the Sunday before Blazer Bash started so I had a few days to play around before everyone else showed up. Robin followed me to Moab from Colorado and we ran Hell's Revenge together on Monday.
I went through the Car Wash both ways since I wasn't sure which way was the proper way.
I attempted escalator and failed (for the second time). I had to hook a winch up to keep my front end on the ground.
When we finished Hell's I played around on Potato Salad Hill a little. I couldn't crawl over the top so I decided to use my winch to get up rather than trying to use throttle. I still had 7 more days of wheeling left at this point so I didn't want to break anything.
Tuesday Amber and I took a jetboat tour of the Colorado near Moab.
"Small Arch" on Poison Spider Mesa.
Jug Handle Arch
Our boat.
We stopped to hike up to a petrified forest. Some of the logs came straight out of the sandstone.
After the jetboat tour we drove through Arches National Park
We found a 4x4 trail there and decided to run up it in the tow rig.
Amber snapped more pictures as we were driving out through the park.
Wednesday we ran the Trifecta with a couple people we met at Slickrock.
Launchpad
The Golden Crack
Thursday we ran Fins N Things with a couple early arrivals for Blazer Bash.
The Dodge twisted a driveshaft on this obstacle.
Friday, the first official day of Blazer Bash. I ended up running Green Day twice and playing on some obstacles at the entrance of Heldorado and Minor Threat.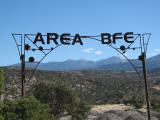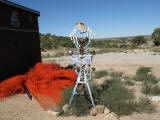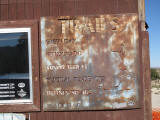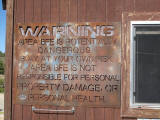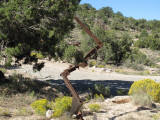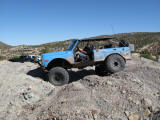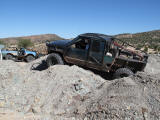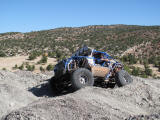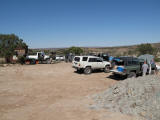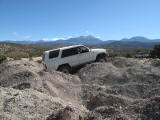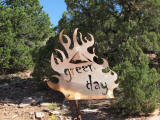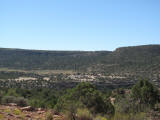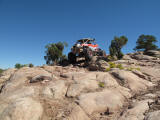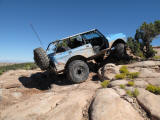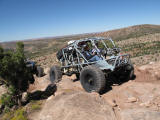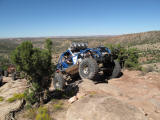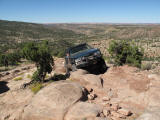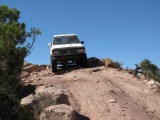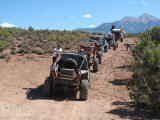 I'm pretty sure this is where I twisted my steering box sector shaft, crushed my king pin spring and stripped out one of my leaf spring bolt holes.
Saturday we ran Cliffhanger, at this point I knew something was screwy with my steering, but I couldn't figure out what it was.
While we were parked at the end of the trail Jason crawled under my truck and found the twisted sector shaft, Amber spotted the stripped out bolt. Then I had to drive back out.
I replaced the steering box and king pin spring and ran "Tip Toe Behind the Rocks" on Sunday. I was planning on running Behind the Rocks, but opted for the easier trail to take it a little easier on my suspension due to the missing bolt.
We watched the other group play around on High Dive and Upchuck.
Some of us ran up Hummer Hill
Then we all stopped and played around on the sand dunes near the exit.
Monday morning started with helping Kurt from DIY4X modify his clutch pedal and fabricate a new master cylinder pushrod for his tow rig.
Then we ran Hell's Revenge again. I took bypasses most of the day.
3 of the rigs played in the big hot tub, none of them made it out though :(
This truck would almost make it, but his truck was carbureted and would die out just before he made it out...
A few people ran through the Car Wash.
Marv did it sideways.
Couldn't quite get this line though.
A few rigs played in Mikey's Hot Tub, they all made it through.
Then we played on the escalator. I only have pictures of the Marvzda making it, the rest are videos that I will get posted later. I finally made it on my 4th try (2nd for the day).
A few of us ran Tip Over Challenge.
Back at camp for the last night before we drove home.