Click on the thumbnails for the full sized picture.
Here are my pictures from Hump N Bump 2010 with Vegas Valley 4 Wheelers and Total Karnage. The timing was right so we actually got to use the new Hoover Dam bypass bridge. We were given a heads up that you can't see anything from the road and you aren't allowed to stop, so a few miles before I had Amber climb into the cabover camper to snap a few pictures of the dam as we crossed.
We showed up Thursday evening, set up our campsite, got registered, tech inspected and socialized. We were amazed at how many people were there and didn't know what to expect on the trail. We met Friday morning and headed to the first trail I had signed up for "Rock Bottom". There were close to 50 rigs running the trail with us, completely ridiculous. We sat around for hours waiting at every obstacle for our turn to go up. Here's some shots of the first obstacle. Battery died in the camera so we only got shots of some of the rigs.
When it got to be our turn for the second major obstacle, I tried the hard line and ended up giving up and taking one of the easier lines to get up.
This creation is called "Mule" it used to be an F350 king cab long bed... He ended up flipping on the line I gave up on. My front end got pretty light as well, that's why I backed off and took another line. He put his truck back on it's wheeled and went right up the obstacle (first time he had ever flopped it)!
Next up was a little sami buggy. This guy was hammering the piss out of the rig sawing it back and forth trying to get up until his upper link on the triangulated 3 link rear axle broke tossing his driveshaft and sending him slamming down into the rock behind him.
While we were waiting for him to get his buggy recovered and out of the way I snapped some pictures of a neat trail "bus". Rear/mid engine setup with an atlas, Rockwell axles and front/rear steer. Seating for 6 and 44" boggers! He wasn't in our group so I never got to see it in action. Very cool rig though.
Once he was sorted out, we continued on the trail. Our group had spread out a bit so it wasn't quite so slow anymore.
After wheeling that day the club set up a "car crawl" event. Several old cars and trucks were set up and anyone that was willing to sign a waiver could run them over. I only snapped a few pictures because the lighting sucked, but you can see the massive crowd that was in attendance of the H n B.
The next day we ran "Shedder". We had a slightly smaller group (35 rigs) and a lot of them bypassed the major obstacles so it went a bit quicker. We started out by running out to "Shedder Bowl". It's a big basin with numerous trails of varying difficulty leading out of it.
After playing in the bowl we went on to run the main trail. There was actually another '72 blazer there which was surprising.
After finishing up the trail, we ate lunch and tried to find something else to run without the huge group to wait for. I bumped into Mule and talked him into leading us through a couple trails with just myself and our buddies Mike and Kathy. We blasted through Bronco Falls first.
I got hung up on my rock slider here and couldn't get past without going skywards. I pulled rope and winched up.
We spotted a sweet crew cab Unimog in the distance.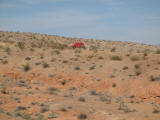 After we ran Bronco Falls we hit the Shedder Bowl again. It had taken us 3 hours to run the Shedder Bowl and Shedder earlier in the day. We ran both with Mule in about 20 minutes taking all the hard lines.
They say leaf springs don't flex very well, I think I proved them wrong here...
Mule was spotting me up a tricky line out of the bowl and I managed to knock a huge boulder up behind my front tire. If I backed up it smashed my brake line and going forward didn't work so I ended up pulling rope again... You can see the boulder at the bottom of the waterfall after it finally fell out from under my truck.
The Unimog ended up coming over to the bowl so Amber snapped a few more pictures of it. Apparently it's one of only a handful of crewcabs made.