Click on the thumbnails for the full sized picture.
Here are my pictures from my trip to Johnson Valley, CA for the 2011 King of the Hammers Race. We got there late Wed night, set up camp and went wheeling the next day. Here's a couple shots of me trying to get up "Back Door". I didn't make it, the buggy made it up the main obstacle then busted his ring and pinion on the second part.
After playing on Back Door for a bit we ran "Outer Limits with a couple rigs we met out on the lake bed. I managed to pull my front driveshaft apart once, requiring some hammering to knock the bent splines off and hammering to get it back together, then later on the trail I ended up dropping on a rock and busting the driveshaft in half at the weld @#$!.. Luckily one of the guys had a welder and we got it welded back together and finished the trail.
Friday was race day. We started out at the starting line to watch the first few rigs take off across the desert.
Then we moved to the base of "Chocolate Thunder" until lunchtime.
After lunch we moved over to "Jack Hammer" to watch for a while.
Then we headed to the desert section between "Chocolate Thunder" and "Jack Hammer".
Climbed the hill to get some overlook shots of the valley and campers below. The dust was terrible like this the whole time we were there.
Finally we ended up at the top of Chocolate Thunder where we watched for another hour or so before heading back to camp.
Saturday was the only day I thought I'd be able to wheel, fortunately we got out on Thursday as well and even did a bit of wheeling between spots where we watched the race on Friday. I wanted to run part of the track so we started off on Chocolate Thunder. At this point I realized I had been running the last two days at 20psi (street pressure) in my tires... I had to winch quite a bit less after I aired down to 7psi.
After we climbed "Chocolate Thunder" we drove the race course to "Jack Hammer". Unfortunately we weren't able to go very far before we ran into some people that were stuck, waiting on parts and blocking the trail so we turned around and ran "Sledge Hammer" instead.
Mike's Jeep was getting really tippy right here so a couple of us hung off his jeep to keep it from flopping. If you look closely you can see my legs under the jeep between the tires on the passenger side. The Jeep shifted on the loose rocks and ran over my foot, caught my pant leg and ran over my leg up to the knee before we could get Mike to stop. You can see the Pitt Bull prints up my pant leg and the big scrape on my leg where it was sitting on top of a rock.
This is what it looked like after a couple days... I don't know how it didn't break, I got lucky. It made the drive home painful, but I don't think there is any permanent damage.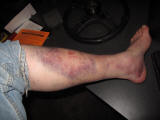 I got out of Mike's way and let him finish the trail. I ended up popping a hublock and swapping it out, but didn't have any other major issues.
You can see how much it cleared out by Saturday afternoon.